Gutter & Downspout Services in Lemoyne, Philadelphia & Hershey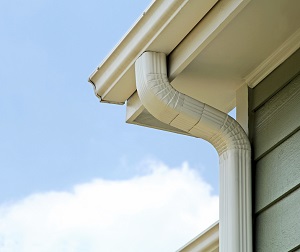 A poorly installed or maintained gutter system leaves the home open to roof damage, soil erosion, and flooding.
Gutters protect your Eastern PA and Southern NJ home from the elements
A gutter system helps move water off your roof and away from your foundation. This helps prevent roof damage, flooding, and water damage. If your gutters clog or leak then they will fail to protect your home, making your home vulnerable to roof and foundation leaks.
However, Valley Coatings, LLC is the answer to all your gutter and downspout problems. We offer comprehensive gutter installations and replacements from our expert team. We can also install MasterShield gutter guards to help you keep your gutters maintenance free.
Contact us today at 1-855-826-0330 or by clicking below to start on your gutter installation or replacement! We offer free estimates on all our gutter services in Lemoyne, Hershey, Harrisburg, and the surrounding area of PA, NJ, MD, & DE.
Important aspects of your gutter systems
There are more gutter options available than ever. Here are some key features to consider to help you sift through the crowd:
Materials: Most current gutters are made from aluminum thanks to its affordability, durability, and general aesthetic. However, unique and historical homes sometimes use different materials like copper.
Color: There are a variety of color options available with aluminum gutters. Besides being factory designed in a wide variety of colors, these gutters can also be painted the color you want.
Style: The "K" profile, that includes a flat back section and a curved front., is most often seen in aluminum gutters, However, some older homes may have half-round gutters that are curved the whole way through.
Size: Most K-style gutters are 5-inches or 6-inches. Which size is right for you will depend on your home as normally the larger size is specified for when the roof area is especially large and/or steep. Don't worry though, our team of gutter professionals will help you pick the right size.
Gutter guards: One major way to avoid continual maintenance is with gutter guards, sometimes known as gutter screens, which cover your gutters and prevent leaves and other large objects from entering and potentially clogging the system. MasterShield is well known for making some of the best gutter guards available.
Additional drainage options: Certain homes may also require a downspout system to make sure the water is carried far from the home. This can simply be a pipe extending over the yard or can be an underground pipe carrying water to a well or daylight outlet.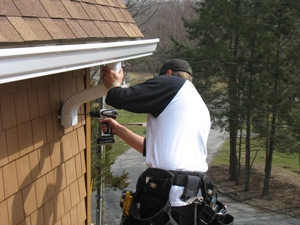 You'll get custom designed gutters that perfectly fit your home.
Our gutter services in Pennsylvania, New Jersey, Maryland, and Delaware
Gutter installation
Gutter replacement
Aluminum and copper gutters
MasterShield gutter guards
Products
MasterShield manufactures gutter guards and gutter heaters for your exterior home improvement needs. MasterShield's innovative microfiltration technology saves homeowners time, effort and money from cleaning out, repairing and replacing unprotected gutters. MasterShield gutter guards are American-made and all raw materials are sourced from companies in the U.S.
MasterShield Gutter Guards
Mastershield's goal is to solve your specific gutter problems. That's why they offer several gutter guard design options for your home.
Gutter Guards for Pine Needles
Pine needles can be a major problem for gutters. They have a tendency to clog gutters very quickly. MasterShield gutter guards are an ideal solution if you're dealing with pine needles.
Most gutter guards have large openings that let debris where it gets trapped in the gutter guard. MasterShield's gutter guards are made with a non-stick, 316 surgical grade stainless steel microfilter that will not allow the tips of pesky pine needles or other debris in. In fact, nothing but water can get through a MasterShield protected gutter!
Heated Gutter Guards
If you're worried about icicles and ice dams ruining your gutters or roof, MasterShield's heated gutter guards might be the perfect solution.
With Ice Shield, you can heat an area as small as over an entrance way or an entire gutter run. The heat cable prevents ice in your gutters and ice dams while allowing water to flow through gutters that would normally freeze solid with ice.
Copper Gutter Guards
If you want the look of copper gutters, or you already have copper gutters on your home and want gutter guards to match, MasterShield is the leading choice. MasterShield's copper gutter guards are made with a stainless steel filter that floats in a special adhesive in a copper body. Copper ions will wash over the filter, killing algae, mold and mildew spores.
Comprehensive gutter services you need in PA, NJ, MD, & DE
Could your home use a gutter installation or replacement? Would you like quality gutter guards from MasterShield to protect your gutter from debris that could cause clogging? The experts at Valley Coatings, LLC are here to help. Our team of experienced professionals can not just provide quality installation or replacement, but also help you identify just what type of gutter you need in the first place.
Call us today at 1-855-826-0330 or contact us online to get started on your gutter project. We offer free estimates on all our work in Hershey, Harrisburg, Lemoyne, Carlisle, Mechanicsburg, Reading, York, Cherry Hill, Levittown, Upper Darby, Philadelphia, and throughout the surrounding areas.
Looking for a price? Get a no cost, no obligation free estimate.